Mage


Joined: 13 Oct 2005
Posts: 19
Location: Elwynn Forest
So there's been a lot going on in Feathermoon lately. I've spent the last two moons learning a lot from my battles and developing my mage training. But the most important part of my day as a young mage is the company I keep. I've met many different types of warriors in Fethermoon, like Cauri the sassy priestess extrordinaire and have reunited with my cousins from the distant lands, Kalelier/Jorielier the all knowing Druid/Hunter and Tryxx/Jezara, the fearless Rogue/Hunter. I have to honestly say that I wouldn't be where I am now if not for the people that help me. Here're some pictures of the battles and memorable times In Feathermoon.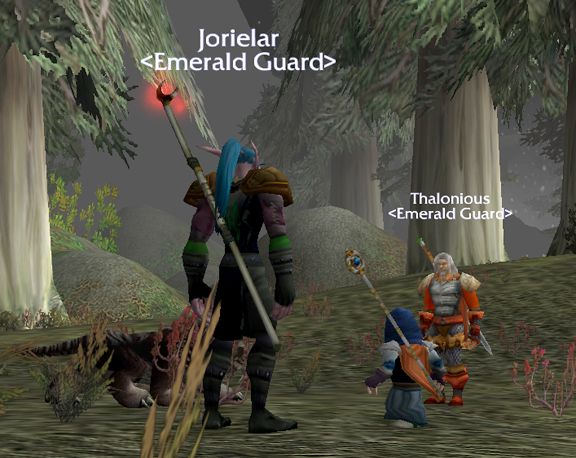 Here's the night Thalonious and I accompanied Jorieler as he gained his very first Matriarch Moonstalker. For them, it was love at first sight.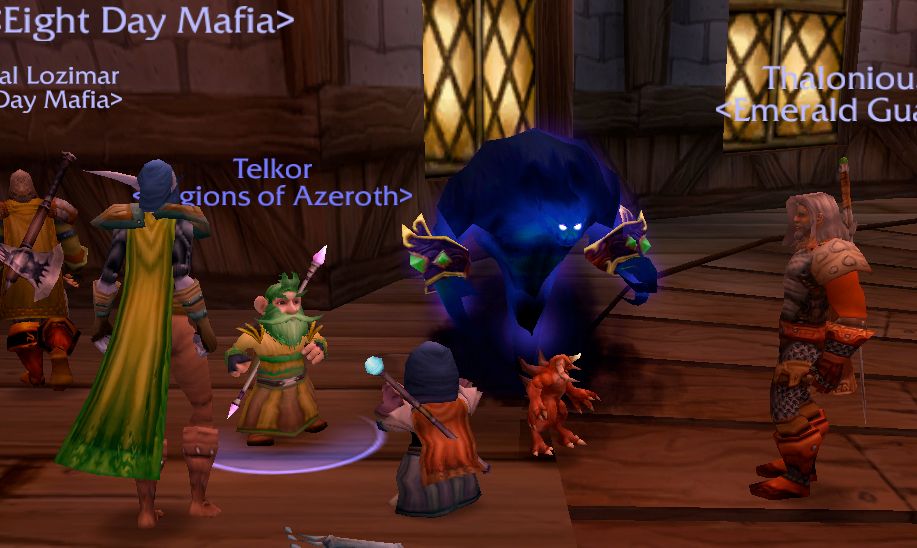 This is from the other night when Thaloneous and I stopped in Astrenaar. I spotted a lvl 37 Gnome hanging out in the shop. Boy was that SOB cocky. We had a battle of the wits. Not all fights can be resolved through battle. (Especially since he's way stronger thatn me). Still, I think i won this fight with my biting rhetoric. No one beats my comebacks.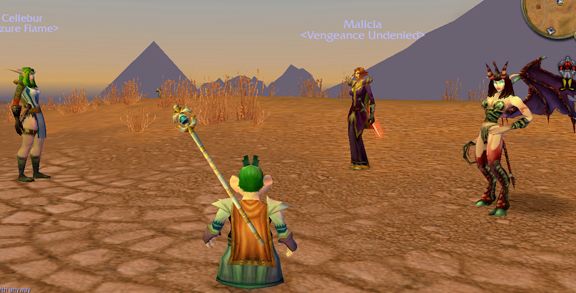 Here's some babes I hooked up with. They weren't all that fun to be with, but the minion among them seemed to have a heart of gold.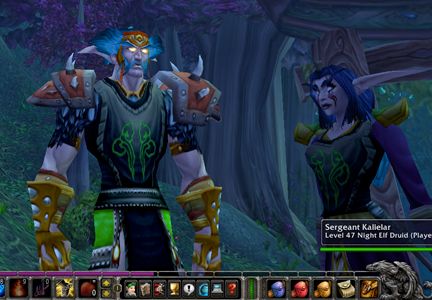 Kalelier and Cauri. Without them, to look up to I'd be as lost as a Kalmordian Furlbog. Hahahah....

But among these valiant warriors is my half brother, the noble Paladin, Thaloneous. (We share the same mother but our fathers are of 2 different races) When I think back on all the stuff I've gone through and all the victories I've had, Thalonious has constantly been by my side.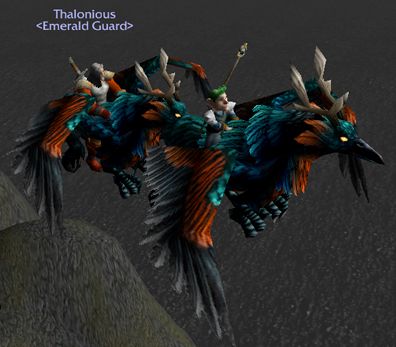 I remember this...me and Thal on one of our memorable Hippogriffith rides together. Man that was a great time...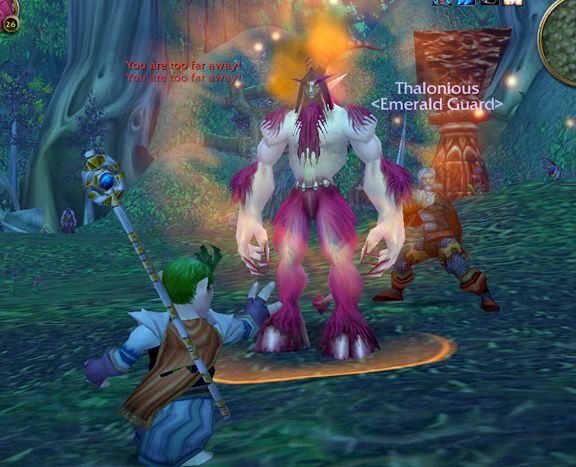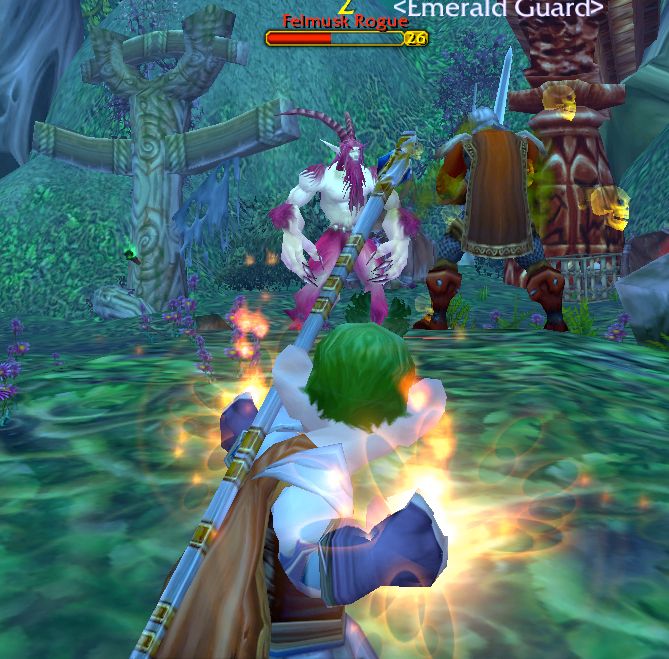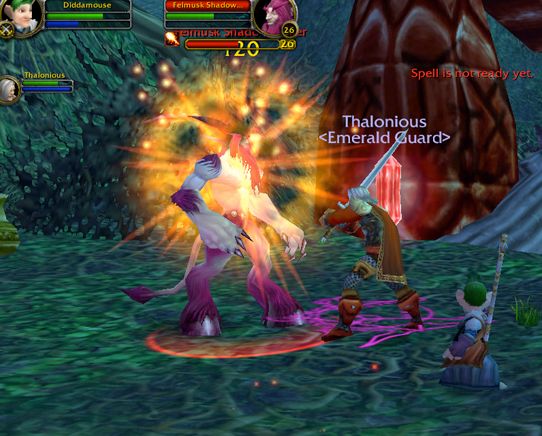 Eye of the Tiger: Me and Thal, opening a big can of double-team whoop-a$$ on this biatch. He went down like a hooker in Times Square.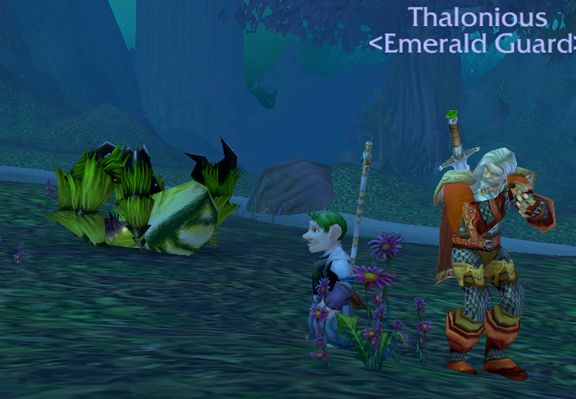 In the dangerous Nighsong Forest: We sure know how to kick ass. We may not look it, but we're not always as confident as we look...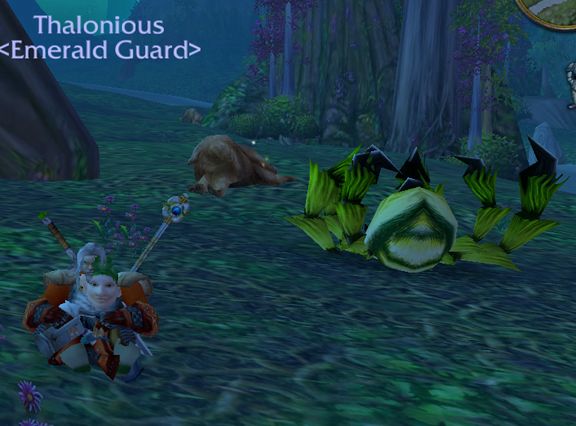 Sometimes, we're barely surviving the onslaught of hordes, I find myself shaking from all the terror we experience. Sometimes, all we need is a litltle hug. This one night, after surviving montster upon monster, Thal and I both just needed to be held. And I'm comfortable with that.

These core people are my battlemates and i couldn't have asked for better. Just goes to show you how important it is to have family in the dangerous realm of Feathermoon...