Well, it's probably about time for me, Thalonious, to post up a few pics as to my recent adventures. I know I've been slacking in the photo department, but I made sure to take some on my recent outing with the lovely Cauri.

In preperation for my near approach to lvl 40 (aka mount level), I had been spazzing out about getting mount loans from the bank. Maybe taking a part time job at the Blue Recluse in Stormwind, or even working for pennies at the orphanage. All in hopes to scrap together some gold for my mount.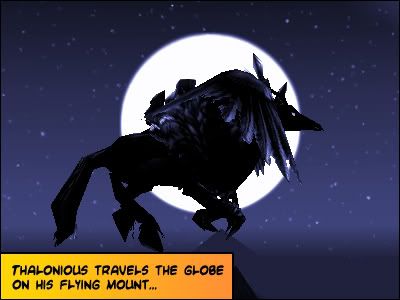 After confiding in another paladin about my money issues, he sort of laughed at me and reassured me it will be ok. I responded, "How can you be sure?!"

He then proceeded to tell me that we paladins get them as a quest. *phew* That was a great load off of my shoulders, and I proceeded to buy massive amounts of booze in gold with the money I had been saving for celebration. All is well.

In more recent adventures, I've had the pleasure of accompanying miss Cauri on some quests. We traveled back to some old stoming spots like around Astranaar to finish up some unfinished business.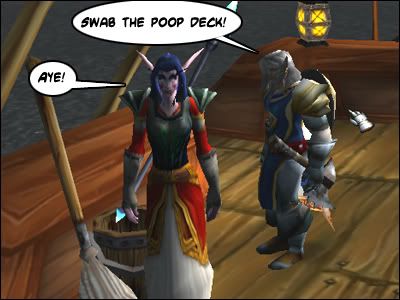 Cauri insisted on cleaning up the boat on our trip to Auberdine




We ended up finishing the quests with great ease and along the way had some rest breaks.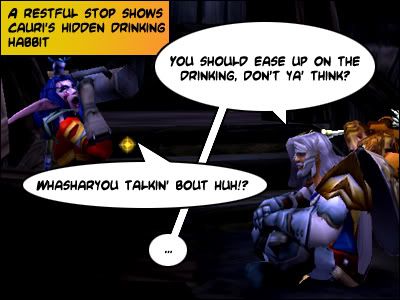 At the end of the night, we had become weary. We stumbled (aka infiltrated) on an abandonded (aka recently abandonded due to slaughter) orc lumber camp. Cauri was having a hard time getting comfortable to the surroundings, so I used my hidden paladin talent of Singing to ease her to sleep. She's cute when she snores.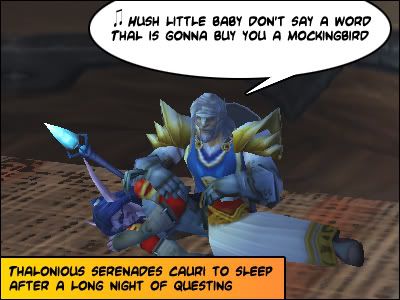 Another day another quest. What will come of our heroes in future mis-adventures?