Paladin


Joined: 15 Oct 2005
Posts: 267
Location: Stormwind cathedral
As a human paladin, it is my duty to protect my home. That home being Elwyn forest. Home to such places as alliance capitol city Stormwind, Brickwell Pumpkin Patch, Stonefield Farm, and the ever popular Goldshire. So it may come as no surprise to you that my hearth point is set to Goldshire, a good central location for my daily travels just outside of the capitol city without all the commotion (lag).

After you are around a place for so long, you begin to notice some things that perhaps one might overlook if they were just to pass by. Let me inform you that there is much that eludes the eye.

Goldshire, a wholesome town during the day. A popular spot for travelers of all seasons to congregate and test their skill at the duel. However, once Elwynn forest becomes blanketed by nights shadow, things begin to change around Goldshire.

My name is Thalonious. This is my story.

It's not uncommon to come accross verious oddities when passing through the little town of Goldshire. It isn't uncommon to see a nude lowbie traversing the village looking for a quick way to score some [Fadeleaf] or perhaps some gold. But in this instance, the mutation or possible outfit had just baffled me.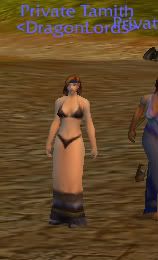 Even I, the paladin before you has succumb to the darker side of the world a few times. Secret exchanges out in front of Stormwind cathedral would soon become a regular part of my life for a time. Aided by an unnamed warlock, these activities would frequently happen.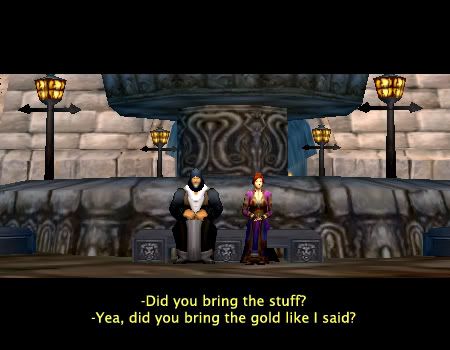 As I would mention earlier, Goldshire becomes the nest for seedy activity. The inn would soon become a bordello and filled with sexual deviants. One instance just recently was with a lowbie by the name of Amyx. Amyx was a submissive type who yearned to be dominated by her master and minion... I was able to sneak a little closer for a listen.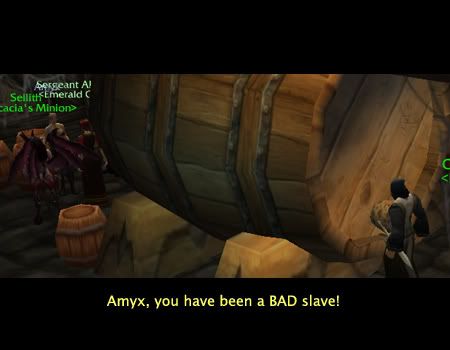 During other evenings, it wouldn't be uncommon for one to suggest that everyone go a little crazy. In this next instance, everyone is prompted with going inside for some nude fun.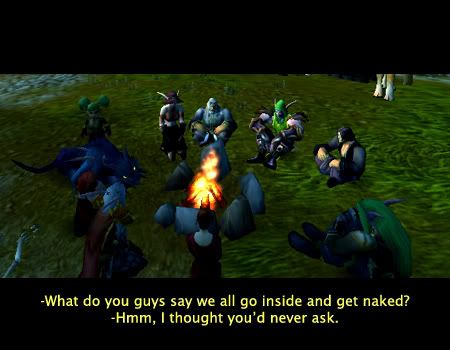 It wouldn't take but a few drinks laced with GHB to get most of the crowd to do what one would please... Even the priestes Jaydin would let her naughty side come full force!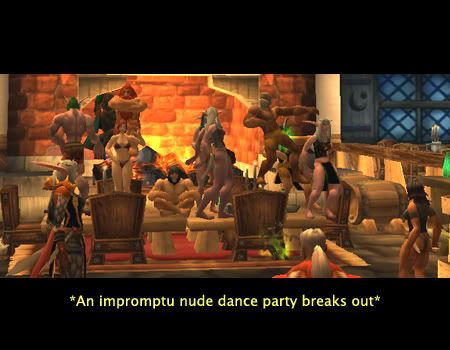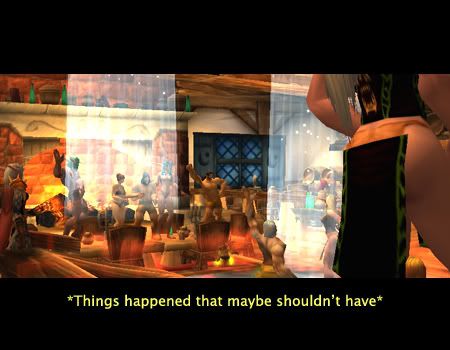 Later that night, everyone was coaxing the night elf huntress Eszti to join in. She had refused the invitation several times, and wasn't till a mob of nudes circled her in dance. I suppose enough is enough after a while for her and it wasn't before long until she ran into the woods to seek refuge. A mob of about 8 nude villagers take thier mounts and begin to chase her through the forest. During the chase, the mob would pass a Tauren warrior who looked perplexed that no one in the mob cared for his presence. It was an interesting weekend in Goldshire to say the least.

What makes people act this way in Goldshire? Is it Hogger? Is it the "dark lord" Balnazzar??? (Aly and Jaydin should know what I'm talking about) It is a mystery. Only time will tell what is to come of this small town.

Goldshire.

_________________


T H A L O N I O U S




-The judgemental paladin-



The REAL Thalonious